Kansas City Metro
Stand for Peace
On Mothers Day 2009 we sponsored another successful event with 250 mothers and others in attendance. We stood for peace to return Mothers Day to its original intent - a day to stand for peace and against war. See our news clips and photos below.


From The Kansas City Star, see article below.
Read our press coverage below...

Group gathers for Mother's Day rally for peace
Overland Park, KS - Susan Pavlakis' arms ached "just a little" Sunday from holding up her peace sign — floor molding duct-taped into a Hula-hoop, swathed with plastic daisies from a dollar store.


Around Christmas, this same peace sign was decorated with holly and ivy for a protest against then Vice President Dick Cheney, but Pavlakis, of Overland Park, wanted a gentler approach for Mother's Day.


Wearing her flower hat and her flowing skirt decorated in a flower print, she wanted people driving by to see first and foremost a mom — a smiling, flowery mom.


"I wanted to promote pro-peace, not anti-war," she said, stopping only briefly to wave at a car honking support.
About 250 demonstrating moms (and a few dads, too) stood outside the entrance to the Oak Park Mall for an hour.


Click the link below to read the whole story from our local news coverage.

http://www.kansascity.com/news/local/story/1189345.html



Eric Nassau and Emily Tummons lead us in song
Kira and Barbara stand for peace!
| | | |
| --- | --- | --- |
| Mothers Stand for Peace | The crowd begins to arrive | Sara gets the crowd stirred up! |
'Nuff said!
Mother's Day:
A Call to Peace and Non-violence
Saturday, May 9th, 2009
Broome County Court House, Binghamton, NY
See our press coverage below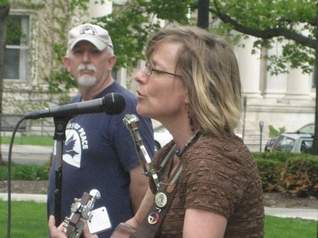 Courthouse Rally in New York
Mother's Day rally urges peace
Courthouse gathering features music, speeches
BINGHAMTON - Linking the causes of peace and the women's movement with Mother's Day, a group of war veterans joined musicians and performers at a rally in Binghamton on Saturday afternoon.


About 40 people of all ages gathered in front of the Broome County Courthouse, which became a brief nexus for songs and speeches by local performers.


Colleen Kattau, a folk singer and songwriter from Ithaca, sang several antiwar ballads. Patricia Donohue, a Binghamton actress and singer, recited the 1870 Mother's Day Proclamation by Julia Ward Howe.


Advocates credit Howe, author of the Battle Hymn of the Republic, for laying the groundwork for the modern observance of Mother's Day. Her Civil War-era speech calls on men to cease waging war. It calls on womanhood "to promote the alliance of the different nationalities/The amicable settlement of international questions/The great and general interests of peace."
Read the whole article by clicking the link below.


http://www.pressconnects.com/article/20090510/NEWS01/905100350/1116/news
Children's
Mothers Day
Stand for Peace
The Unitarian Church of Lincoln
Lincoln, NE 68510-5097

Organizing a Mothers Day peace event?

Please let us know about it (click the Contact Us button) and we will publicize it here for you!

This website has been designed by Julia's Voice. Contact the webmaster here slsautter@gmail.com